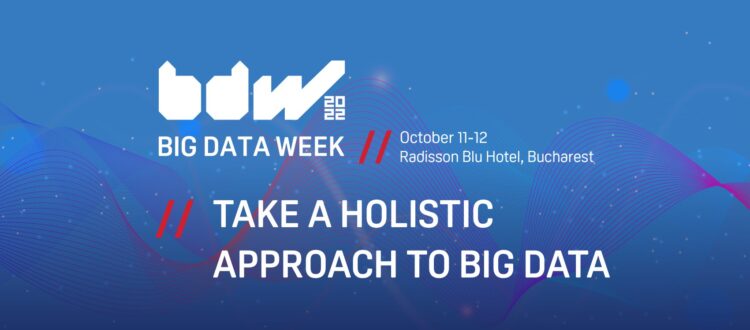 10+1 Reasons to Attend Big Data Week Bucharest 2022: Let's (Re)connect
Let's meet again! A new format, a new direction, new topics, and top speakers are awaiting you this year, in person, at Big Data Week Bucharest Conference! In this article, we're going through the reasons you should attend the 4th edition of BDW Bucharest, so read below to find out extra details of this year's format, stages, speakers, partners, and, most importantly, how to join the satellite events we prepared for you (TL; DR – go straight to point 6 and 7).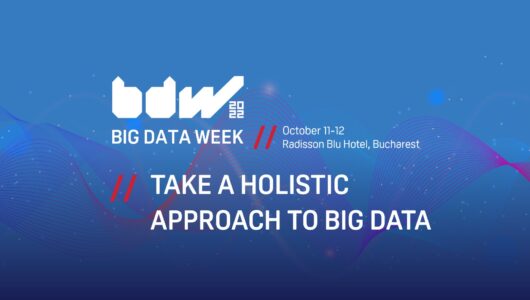 In-person Events Are Making a Comeback
Big Data Week Bucharest Conference is back this fall! We hope you're as excited as us that the first and biggest big data event to take place in Romania will be a live, in-person conference hosted at Radisson Blu Hotel, Bucharest. What better way to reconnect with like-minded individuals and big data professionals after three years of not knowing whether the interlocutor is indeed wearing shorts or not? We're kidding, but we sure are thrilled to grab a live coffee with you all of you on October 11-12!
   

Take a Holistic Approach to Big Data
So, you have a lot of data, then what? You need a place to store it, a structure to make sense of it, a way to analyze it, all these without compromising security. That is why our scope this year goes beyond just insights and plans to offer information on each layer of a big data project implementation. This edition of BDW Bucharest proposes a 360° view of big data projects: from infrastructure and architecture to security and reporting.
   

New Format – Four Gratifyingly Insightful Stages
If we mentioned the theme – a holistic view of big data – then let's discuss a bit about this year's format and what to expect. While last year we separated the Business and the Tech stages on two different days, this year boasts a new format, designed to fully support the above theme. There will be four dedicated tracks for each of the stages of a big data project implementation:
Big Data DevOps & Infrastructure

Data Security

Big Data Architectures

Reporting, BI & Analytics
Which stage are you most interested in? We're dying to find out, so let us know in the comments!
   

Top Industry Speakers
Given the diversity of this year's tracks, our speakers range from Senior Software and Data Engineers to DevOps professionals, BI Engineers, and, last, but not least, Security Experts, from top companies such as adidas Runtastic, GoPro, Adobe, eMAG, Gameloft, Bitdefender, Adore Me, Endava, Qvest.US, Regina Maria, tarent, UiPath, EPAM, AdsWizz, Cognizant Softvision, Elrond, diconium, eSolutions, and MetalSoft, as well as from startups, such as DataBooster, and major cloud providers: AWS, Google, Microsoft. 

From technical leads to more business-oriented job titles, they will present demos, their own data platforms, or data architectures, and show the different tools used in their journey. Details about each speaker and their talks can be found here.
   

Big Data Trends & Topics
Data mesh, graph databases, Kubernetes, Neo4j, web3, privacy in international data transfers, cloud, MLOps, Kafka-streams, autoscaling, Elasticsearch, domain-driven design, Apache Druid, data storytelling, CI/CD, Cassandra, and all sorts of various data platforms are just some of the topics that will be discussed, on stage, during the Big Data Week Bucharest Conference.
By attending this event you can discover which tools are currently used in the industry, find out what other professionals are doing, learn about new types of big data architectures, share some of the issues you encountered, and see how other people are fixing them.
Still not convinced yet? There is more.
   

Satellite Events in Collaboration with Our Partners
Why not expand further? A free-entry BDW satellite event is brought to you by ING Hubs Romania, in their new hub designed to foster conversations with the community. In collaboration with Cloud Native Meetup and Big Data Meetup, we will meet on Calea Victoriei on Thursday, October 13, to see insightful talks on Collaborative Data Platform, where three tech-driven speakers will present ING's journey towards a collaborative data platform and Adore Me's Self-Service Data Marketplace.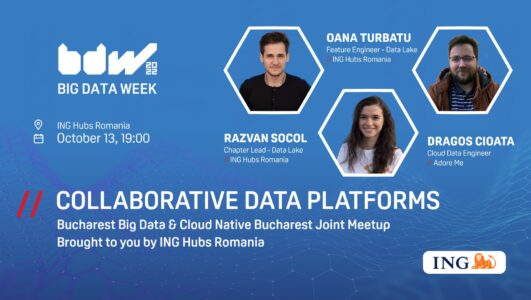 **This event has free access, however, it requires an additional registration so be sure to secure your spot on Meetup.
   

DevOps Technical Workshop
Interested in a more practical session? Then this workshop on Monday, October 10, is for you. Held by Codrut Panea, DevOps Engineer at eSolutions, this workshop provides an overview and a hands-on demo of how to use ArgoCD and Crossplane to bootstrap Kubernetes clusters.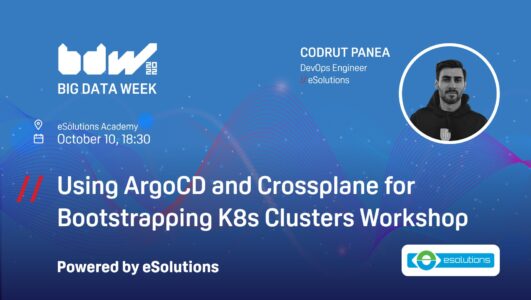 **Free entry workshop, limited seats available. For prerequisites and registration details, please follow this link.
   

Networking & Insights
Spark up a conversation with similar-minded "big data troopers," get into fact-based arguments on conflicting views, discuss new tools, or simply reconnect with colleagues and industry professionals. We've all been waiting for it, haven't we? As networking is an important part of any conference, and breaks are much needed for the information to sink in between talks, we have planned this event allotting intervals for coffee breaks and lunch. You will have plenty of time to exchange ideas and discuss big data technologies and best practices.
   

Big Data Community
If there's networking, there should be a community. Together with Big Data Bucharest Meetup, we've tried to make big data more available to business and tech professionals in Romania, and intensely promote the benefits of adopting a big data culture in your company. Even though these past years have been challenging in creating and maintaining a strong community, we hope you share the same goals as us and join us in our endeavors in the coming years.
Relevant Solution Providers
We enjoy having cool companies help us create a better event every year! This year we give a shout-out to our Presenting Partners, eSolutions and MetalSoft, to our Platinum Partner, ING Hubs Romania, to our Gold Partners, EPAM, Cognizant Softvision, and Deloitte, and, last, but not least, to our Silver Partner, ASUS Business. Join us on October 11-12 to interact with them and see what amazing activities they have prepared for you.

One Objective for All – Use Data Wisely and Correctly
Why do we do this every year? That's simple, as there's mainly one goal: make good use of the vast amount of data created daily. As it's estimated that 175 zettabytes of data will be created by 2025, why not use it to our benefit? But we'll leave further big data statistics for one of the 8.5 billion searches that are done on Google every day. :-)
We are thrilled to (re)connect so see you there!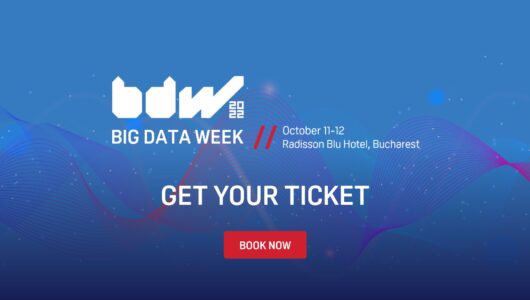 2022, October 11-12

Radisson Blu Hotel, Bucharest

#bigdataweek #BDWBucharest #BDW2022