This article takes part from the interview series with our speakers for this year edition of Big Data Week.
Enjoy Ronald's thoughts on big data.
While Big Data is already a buzz term, what does it actually mean for you? (an old question with a fresh answer)
Big Data offers the opportunity to become more customer-centric. Data in itself is nothing, unless you can transform it into insights and information. But if you can, the possibilities are immense. Big data unfolds new opportunities – more than ever before – to really understand customer needs through the insights they give us.
Is it important to be data driven nowadays – does it make the difference between "be relevant and be redundant"?
It makes all the difference. Mainly because data feeds creativity and intuition, and helps to implement a customer-centric strategy. You need reliable, real-time data from all available touch points (the entire customer journey) to get connected and build relationships. Relevance goes far beyond offering the right product or service, it's also about broad availability, high speed, and delivering at the right time, in the right place and in the right way.
What are the main challenges a company encounters when starts to look at their data?
First of all it's not only about their 'own' data. You have to take all available and relevant data 'out there' into consideration. So at first they have to deal with the challenges connected to Big Data complexity, which is often referred to as the four (or even five) V's of Big Data: volume, velocity, veracity, variety (and value). To be able to cope with this, a Digital Transformation is of the essence. Five major challenges we often see at companies that start their digital transformation are the following:
• A lack of C-level commitment and understanding.
• Many companies start their digital transformation with selecting technology. But technology should follow your strategy instead of the other way round
• No proper alignment of people, processes and technical platforms.
• No data process management foundation to collect, process and deliver customer journey data
• Insufficient data governance leading to unnecessary privacy and compliance risks.
You mention 'data process management'. Which domains does that term cover and how can you determine your maturity level on that?
Data process management embodies the entire process of collecting, processing and delivering or distributing data for creating a competitive advantage. This covers domains like technology, resources, and processes but also culture, strategy, quality and governance. At Adversitement we are currently building a benchmark through an online survey on our website, which everyone is welcome to fill out and see where they stand.
You are a Top 10 Big Data influencer according to Dataconomy. How do you see your role into convincing businesses about the potential of data?
Simply by delivering the proof of the awesome ways you can use Big Data. By sharing knowledge, experiences and high-level, international cases from Adversitement and other Big Data experts via social media, webinars and events. Furthermore I visit and help companies – for instance through C-level workshops – to translate their business strategy into a pragmatic digital transformation roadmap to improve their digital performance.
Do we still need data scientists with all the tools existing today for data cleaning, analysis, machine learning?
Every business is or will become a digital business. Data scientists are key players in this process. The tools that exist today, exist because of the talent of data scientists. A successful digital transformation depends on the right balance between people, processes and platforms. Data scientists have the capability to define models and predict actions, which is critical in becoming more customer-centric and creating a relevant and better customer experience. Tools support them in doing their job more efficiently and effectively.
Who should come and listen your talk in Big Data Week?
Big Data is a topic that cannot go without commitment from a company's management. So my talk will be most relevant for C-level professionals that call the shots when it comes to data. Think of CEOs, CMOs, CIOs and CDOs from all branches that want to become more relevant, customer-centric and create an optimal customer experience.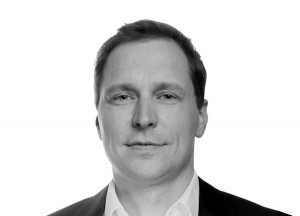 Ronald helps data driven companies generating business value with best of breed solutions and a hands-on approach. He is recognized as one of the top 10 global influencers by DataConomy for predictive analytics, and by Klout for Big Data, is guest author on leading Big Data sites, speaker/chairman/panel member on (inter)national events and runs a successful series of webinars on Digital Transformation. Ronald has been active in the data (process) management domain for over 18 years, founded multiple companies and is now director at Adversitement – leaders in Big Data & data process management solutions. He has a broad interest in big data, data science, predictive analytics, customer experience and data mining.